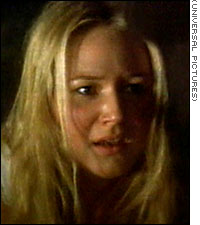 Film adds new facet to Jewel
BARRY KOLTNOW
The Orange County Register
November 23, 1999




It would appear as if Jewel Kilcher has it all.

Her first album, "Pieces of You," sold an astounding 11 million copies, her follow-up album, "Spirit," already has passed 4 million, her 1998 book of poetry, "A Night Without Armor," was a best seller, and she shines in her movie debut in "Ride With the Devil," which opens Wednesday.

She is beautiful, talented, rich and, if we are to believe the gossip press, involved in a serious relationship with a handsome rodeo cowboy.

So if you were to ask the 25-year-old performer if she still would have sought this privileged life if she had it to do over again, you would assume she would enthusiastically answer: "YES!"

You might be wrong.

Although she says she is finally happy with her life, she admits she might have chosen a different path if she had known what lie ahead.

"Frankly, if you gave me a crystal ball when I was 18 and showed me what was coming, I probably would have passed," the straight-talking singer said in her Los Angeles hotel suite.

"I was very afraid back then, and I was socially awkward. I would have realized that I didn't have the skills to handle this level of success. Believe me, I didn't think I was some sort of major talent the world needed to recognize. I didn't think of myself as some hidden treasure.

"I wasn't trying to kid myself; I knew the odds were against me. I knew I wasn't hip. I was this little folk singer from Alaska. You only have to walk into any record store to find 15 million artists that nobody ever heard of. Only a few make it, and there was no reason for me to think that I would be one of them."

Jewel — she is known professionally by the single moniker — did make it, but there has been a price to pay.

"My world now is exactly opposite of the world I grew up in," she said. "My whole childhood was sculpted by open space, and now I live in a world of constant confinement. I am constantly in hotel rooms. I am constantly in cars. I am constantly in airplanes. I am constantly in clubs. The solitude and confinement that come with fame is an odd thing. Learning to deal with that has been difficult.

"I'm not complaining," she added quickly. "I made this choice. I chose at 18 to pursue this life. I just never expected it to happen so fast."

VAN WITH A VIEW

Jewel's rise to stardom and the struggle that preceded it already have passed into folklore. She grew up in Alaska in a bohemian family of artists, performers and free spirits. She moved with her mother to San Diego in 1992 and for about a year lived in a Volkswagen bus because she couldn't afford an apartment.

She worked occasionally in area coffeehouses but spent most of that year trying to turn around her attitude.

"I like to call it my rewiring phase," she explained. "I was paralyzed by fear and self-important martyrdom. I kept focusing on what I didn't have. I was very neurotic, and I kept getting physically ill.

"Finally, I told myself, 'Jewel, nobody's going to come in and save you. You're going to have to get over this by yourself. You're going to have to start doing something for yourself.'

"I started reading a lot and focusing on the choices I had, rather than on how bad the world was treating me."

With a new attitude in tow, she began to find singing gigs, and she was signed to a record deal while performing at the Innerchange coffeehouse in San Diego.

"I remember surfing with my long board in San Onofre one day. I had just caught a great wave and decided to call my record label. While I was on hold, I looked out at the Pacific Ocean. It was a beautiful day, my hair was wet, and there I was, calling my record label from the beach. It was pretty cool.

"I had called to discuss my first album, which was about to be released. I learned during that phone call that they had made a mistake. I wanted the album to say Jewel Kilcher on the cover, but they misunderstood and thought I wanted it to just say Jewel.

"They told me that it was too late to change the cover but that I shouldn't be too upset. They said they expected the album to sell only about 30,000 copies. They said nobody would notice and they'd fix the name on the second album.

"Of course, when an album sells 11 million copies, you become Jewel."

A DIAMOND IN THE ROUGH

Jewel acted in high school but was too busy with her music to bother taking acting classes before director Ang Lee ("Sense and Sensibility," "The Ice Storm") picked her to star opposite Tobey Maguire and Skeet Ulrich in the Civil War drama "Ride With the Devil."

The young actors play childhood friends along the Missouri-Kansas border who join a gang of Bushwackers that tries to thwart the Union Army. Jewel is a farm widow who befriends and gives comfort to the Confederate sympathizers.

"I was really unprepared for this," she said of the movie experience, "but I'm not sure you can ever be prepared for your first movie."

Jewel said she never harbored dreams of movie stardom but simply needed a break from her music career.

"I have spent the last five years singing the same songs over and over again," she said. "That's an unnatural thing. I needed desperately to do something else, to get my brain around something besides music.

"I was so lucky to get into an Ang Lee film my first time out. I didn't know anything about acting, but I felt I could do it if he helped me. And he did. He is so talented and he was so careful with me. He gave me perfect instruction on what I was supposed to do, and even insisted I study tai-chi because he felt it would ground me. I have a tendency to be very expressive with my body, and the role called for understated acting."

Although she said the filming was difficult, she said she is pleased with the results. All she had to do is survive the first screening.

"I was terrified to see it," she said. "I didn't know if I'd ever act again if I thought I was bad in this movie. I didn't know if I could be that forgiving to myself. But when I watched the movie, I was relieved. I didn't embarrass myself."

Early reviews of the film have been kind to Jewel, but she expects that some critics will attack her, if for no other reason than critics seem to enjoy attacking Jewel.

Whether it's her meteoric rise, her style of music or her frankness, there has been a recent backlash against her in some quarters. She said she would like to take it all with a grain of salt, but it's not always easy to do so.

"Yes, I take it personally. I was taught to take criticism personally. It makes me doubt myself. I wonder if they have a point.

"But I'm no different than the people who talk about me. I'm guilty of the same thing. I'm the first one to complain that if I hear a particular song one more time, I'll scream. Don't we all do that? Don't we all talk about other people?

"No matter how successful you become, it's still just like high school. There is the popular girl that everybody wants to be like, but she's also the girl everybody hates. I guess it's my time to be the popular girl."