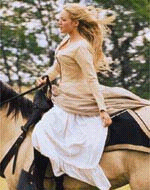 Holiday Movie Preview
Ride With the Devil
Entertainment Weekly




starring Tobey MAGUIRE, Skeet ULRICH, JEWEL, Jeffrey WRIGHT
directed by Ang LEE
what's the big deal? Lee's follow-up to ''The Ice Storm,'' his critically acclaimed... wait! Is Jewel in this?!
release date Nov. 24


Oscar winner Matt Damon was approached to star in this $35 million Civil War drama, about childhood friends fighting on opposing sides of the Kansas-Missouri border. When Damon opted to make ''The Talented Mr. Ripley'' instead, Lee picked Ulrich as his replacement, adding him to a crew of ''Ice Storm'' alums that includes Maguire and screenwriter James Schamus.

But if Ulrich felt like the new kid in school, imagine what it must have been like for multiplatinum pop singer Jewel, whose acting experience had hitherto been confined to emoting in her videos and being mistaken for Renée Zellweger. ''We didn't just let her come in with no problem,'' says Maguire. ''We bumped [her] around a little.''

Jewel may have been too busy learning the ropes to even notice: ''I was just clueless,'' she says. ''It took me a day to figure out what stand-in means. But you learn.'' It's this cluelessness, Lee argues, that made her so right for her role as a shy war widow. ''There's something virginal about Jewel,'' Lee says. ''There's an authenticity to her performance because she's being watched for the first time.''

Or, as Maguire puts it, ''I definitely have respect for Jewel as somebody who works hard, you know, and does the best she can, and I think that she ends up like... coming off good.'' Like she was meant for this?