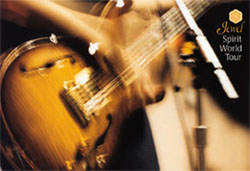 Jewel and Tommy Hilfiger Team Up for Tour

Rolling Stone
June 30, 1999



Hilfiger sponsors Jewel's "Spirit" tour; more dates announced

Tommy can you hear me?

Designer Tommy Hilfiger is at it again. After sponsoring (and dressing) the Rolling Stones, Britney Spears and Sheryl Crow, the designer has announced that his woman's sportswear division will team up with Jewel in what he's calling a joint "Fashion and Music Venture." Hilfiger is underwriting the Alaskan folkie's current North American "Spirit Tour," which kicked off on June 25 in Bakersfield, Calif., and winds up on Aug. 28 at West Palm Beach, Fla.'s Coral Sky Amphitheater. For her part, Jewel will model Hilfiger's clothes for his national fall 1999 advertising campaign for his women's sportswear collection, along with Sports Illustrated> model Rebecca Romijn-Stamos, Joy Braynt and Gretha Cavazzoni. Naturally, Jewel didn't have to stroll down the catwalk; instead Hilfiger is using concert shots of the ethereal beauty in his print ads.

Why Jewel? "Like the title of her album, Jewel represents the true 'spirit' of the Tommy Hilfiger woman," Hilfliger enthused. "Jewel not only encompasses inner and outer beauty, but she has a unique and elegant style . . . I cannot think of a more suitable female musician who best personifies the Tommy Hilfiger image. I am thrilled to be working with her."

According to Jewel's label, the feeling is mutual. We just want to know, does she get to keep all the clothes?