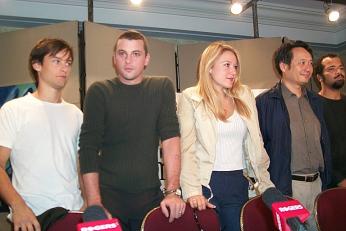 Jewel Sets Pulses Racing




The news conference for Ride With The Devil results in a session of good old-fashioned star gazing.

Maybe most men just have a hard time talking to Jewel. And who can blame them?

Sporting a sheer white top with a plunging neckline, a fashion choice enhanced by the dark-coloured bra she wore underneath, the Alaska-born folk diva swanned into a standing- room-only media scrum yesterday to promote her movie debut at the 24th Toronto International Film Festival.

One could almost hear the collective sound of male jaws dropping as the former coffeehouse vixen checker her lacquered nails and gazed into the middle distance as if to say, "Well?"

Jewel, it should be pointed out, no longer needs to announce herself when she walks into a room. She merely sucks all the available oxygen out of it and waits for people -- men, anyway -- to asphyxiate on theirself-consciousness.

Born Jewel Kilcher, she is not shy about her sexuality, even if it seems at odds with the crunchy, post-hippie persona that led her out of obscurity as a 19-year-old minstrel.

As Vogue magazine has noted, she is probably the first fold singer to go onstage in four-inch heels and a miniskirt -- "the Mariah Carey of folk."

Yesterday, she went with blue hip-huggers, but the effect was just as eye-popping. Even amid the glitter of the festival's Armani set she cut a wide swath.

On the face of it, this was a news conference for director Ang Lee's American Civil War drama, Ride With The Devil in which the singer plays a young Confederate widow named Sue Lee Shelley. But the subtext of this hourlong session had more to do with old-fashioned star gazing.

"I know you've probably heard this question to death," apologized one young swain from the media, who finished his harmless query with an almost frightened look. "Sorry," he gulped.

For her part, she seemed willing to play the modesty card with perfunctory conviction: "It's a real difficult medium," she said of screen acting. "I definitely had to gain a whole different set of skills to do the film." Did she feel confident? "No."

What has helped her overcome her nervousness?

"Ang," she said, smiling at the genial Taiwan-born director of The Ice Storm, Sense And Sensibility and The Wedding Banquet. He sat next to her on the podium, along with male members of the cast including Skeet Ulrich, Jeffrey Wright and Tobey Maguire.

At the very least, Jewel's appearance here added the first blush of big-league American celebrity to the festival, which runs through next weekend. Even in a year in which the talents pools includes Robin Williams and Elton John, Jewel shares that rare air of truly famous.

The surest sign of that was glimpsed outside the festival's Park Hyatt Hotel headquarters, where a gaggle of young girls waited for their heroine. Jewel's debut album Pieces Of You has sold more than 10 million copies since its release in 1995 and her book of poems, A Night Without Armor, was also a runaway bestseller. It's chock-a-block with the sort of dewy, undergraduate verse that would make a Hallmark writer blush but has set her up as the Elizabeth Barrett Browning of the Gap generation.

Whether she'll enjoy such smooth passage into cinema remains to be seen.

Her performance in Ride With The Devil, in which she plays a hard-luck war bride who loses two men to battle then woos a third (played by Maguire), was preceded by rampant industry rumours that she was "difficult" to workwith.

According to Entertainment Weekly, she "irked fellow actors by strumming a guitar on the set and addressing crew members in a high-pitched baby voice."

One source said she "spoke to people like trash. 'Oh, can I please have a glass of water!' She'd use that tone and then she'd turn to somebody and go, 'See, that's how you have to talk to them.' "

According to reports, Lee invested a lot of time in his young star. He hired an acting coach for her, rehearsed one-on-one with her. After three months of testing her skills, he decided to give her the job.

New conferences, of course, are not for airing a movie's dirty laundry or expressing doubts -- they're a marketing vehicle. Right on cue, Lee said this was the best cast he'd ever worked with, Jewel included. And screenwriter and producer James Schamus added that "the real irony here is that the best rider in the movie was Jewel -- and she had to ride a mule."

All the while, Jewel gazed dreamily into middle space. Or was that just a bored smirk?

It doesn't really matter. What matters is that she looked great and said the right things in response. She said she "didn't know what the heck I was doing" during those first weeks on the set. She said that "Ang was like my life preserver that I clung to desperately." She also said she tried to do her best because she didn't want to "disappoint all the guys."

And when somebody asked what kind of a role she had in selecting the movie's music (she sings a version of Aura Lee with Skeet Ulrich), she batted her big brown eyes and said:

"I didn't have anything to do with the music. I had my plate full just trying to get the acting right." Spoken like a true little trouper.