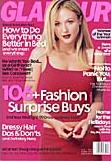 Jewel's New Day Jobs
Joanna Connors
Glamour Magazine
December, 1999



Thanks to Scott Evans for typing this up.
Let Me Fly

Here's an idea of Jewel's to-do list: Check early sales figures on my new Christmas CD; Finish writing my second book; Rope and ride with my new "cowbeau," Ty Murray; Check on charity fund-raising; and buy dress to wear to my first movie's premiere. Get the picture? Jewel's so busy these days, she barely had time to accept our Woman of the Year award!

(Sidebar: Gems From Jewel)

Greatest romantic hits: She's dated actor/bad boy Sean Penn, singer/good guy Steve Poltz, and soap-star-turned-rodeo-cowboy Chris Douglas. Now she's with world champ rodeo star Ty Murray.

Overcoming odds: Although she struggled with dyslexia as a child, Jewel is now an avid reader.

Putting her best face forward: Superstar makeup artist Kevyn Aucoin is one of Jewel's best friends, but she claims she stills does her own makeup for most of her television appearances.

Take That, Grunge! Jewel's album Pieces of You sold as many copies as Nirvana's Nevermind, one of the most highly acclaimed albums ever.

She's got new wheels: Jewel no longer drives her cherished VW van--her mom bought her a red Jeep Cherokee for her birthday.

All strummed out: Jewel took opera classes in high school, but didn't discover her true passion--playing guitar--until 1989.

At peace with teeth: "As a kid I desperately wanted my teeth done, but we just never had the money. Then you grow up and get used to it. And the idea of wearing braces now is absurd. I don't care if my teeth are straight or fixed or whatever."

(Main Article)

At the Four Season Hotel in Toronto on a gorgeous early autumn day, the Jewel star-making machinery is cranking. Publicists, reporters, photographers, makeup artists, hairdressers and camera crews mill about, all needing a piece of Jewel. The 25-year-old Alaskan folk rocked has come to the glitzy Toronto International Film Festival for the North American premiere of Ride With the Devil, the Civil War saga directed by Ang Lee (The Ice Storm), in which she makes her big-screen debut (the film opens nationwide this December). And today, three floors of the hotel have been turned into Jewel central.

Escaping the commotion, Jewel sits cross-legged on the floor in a corner, softly strumming her guitar. Her wispy blond hair framing her serene face, she looks more like a college freshman hanging out in her dorm hallway than a movie/rock star. "If I can get five minutes by myself in between interviews, well, you know, I have to take it," she says.

Time is a precious commodity for Jewel these days. Her Christmas album, Joy: A Holiday Collection, has just been released, and she's also finishing a book of essays and sketches (she received a huge $2 million advance to write the follow-up to her best-selling book of poetry, A Night Without Armor). And when she's not touring in support of her quadruple-platinum album, Spirit, or helping to run her charitable foundation, Higher Ground for Humanity (HGH), she's sneaking off to her boyfriend's ranch in Texas to practice roping and branding cattle (more on the cowboy later).

Hectic as her life is, she's accustomed to the pace (although, she admits, she'd like to spend more time at her new home in Rancho Santa Fe, just north of San Diego). After all, it's been this fast since 1995, when Atlantic Records put out her first album, Pieces of You. Jewel toured "mercilessly" (her word) nationwide to support the record, doing nearly 500 shows in the year after its release. Just as her singing success was peaking, she was linked romantically to Hollywood bad boy Sean Penn, which solidified her celebrity while Pieces of You was on its way to becoming a record-industry phenomenon: It sold 11 million copies.

Jewel sat down with Glamour in Toronto to take stock of her success, discuss her budding acting career and talk (just a little) about the new man in her life. Right now, she's sipping tea at a table in an empty ballroom in the hotel, wearing a rumpled, inside-out blue T-shirt and gray sweatpants. "People always ask me, 'Why do you work so hard?'" she says. "Well, after Pieces of You came out, I knew I had one shot, and it was up to me, period, to break myself [into the business]. It was up to me to get fans. I mean, I HAD to work this hard."

She knew from the start of her career, at age 18, that she wanted to make more than music, so she wisely signed with a talent agency that also had film and literary departments. "Why wouldn't you want to do more than one thing?" she asks, pouring more tea. "Creativity is creativity. It's just a matter of which arm you want to use, your singing arm or your acting arm or your writing arm, whatever."

After her music career took off, Jewel branched out, following the plan she'd set years before. "When Ang's movie came up, it was perfect timing for me," she says.

Lee knew little about Jewel ("I'm too old," joked the 42-year-old director), but when his casting director suggested her, he immediately saw her in the role of Sue Lee, a young widow whose life is shattered by the Civil War. "She had a period upbringing and a period look. She's even got period teeth," Lee says, referring to Jewel's famously crooked smile.

It was this small imperfection, in part, that made her perfect for the role. Also contributing to her allure, says Lee, was her earthy toughness--a side of Jewel that not many people are familiar with. "My dad's a cowboy," explains the singer. "I go with him to rodeos when I'm off the road, and it's like I'm not famous. It's really nice."

In fact, Jewel appears to have a thing for cowboys. Last year she went out with soap-star-turned-rodeo-star Chris Douglas, 30. And it was at a Colorado rodeo earlier this year that Jewel met her current beau, 30-year-old Ty Murray, a seven-time World Champion All-Around Cowboy (he's skilled at many rodeo events, especially bareback and bull riding--hence the term "all-around") and the youngest cowboy millionaire ever. While both are super-busy with their careers, they travel with each other when possible.

"The day before I got to this film festival, we were blacklegging, castrating, dehorning, eartagging, and I got to rope for the first time," she says, laughing. "It was a lot of fun."

Her wrangling experience also gave her an edge that Lee found irresistible. "The first time I say her," Lee says, "I saw the power of a woman, that feminine sexual power and strength that she has. She is not saccharin--she can hold her own as the only woman in a war movie. And she has a sincerity that comes across on the screen."Rugged Beginnings The story of Jewel's rural Alaskan childhood has been told so often that it sounds like folklore--as if she were "raised by wolves," Jewel jokes.

Actually, she was raised by hippie/artist/musicians who saw themselves as the last pioneers. Not long after Jewel was born in Utah, on May 23, 1974, ranch owners Atz Kilter and Nedra Carroll moved their family to an 800-acre homestead near Anchorage in Homer, Alaska. There, they brought up Jewel and her two brothers, Atz Jr. and Shane (she's the middle child), in a cabin without electricity or running water. When Jewel was eight, her parent divorced and her mom moved to Anchorage; all three kids stayed in Homer with their father. When Atz--also a folk musician in addition to his other talents--played in local bars, Jewel tagged along. As a high school sophomore, she won a scholarship to the prestigious Interlochen Arts Academy in Michigan, where she spent two years studying opera, music, drama and sculpture, and modeled for a sculpture class to make money.

Her voluptuous beauty may have made the sculptors happy, but it made her feel like an outsider at the school. "Even though I was raised on a homestead, I was aware of weight [issues]," she says. "But I was lucky to have another type of role model--real earthy, hippie, round women. Then I went to Interlochen, where a lot of the girls were dance majors and everybody was bulimic. I mean, after lunch, you'd hear all the toilets flush!"

After graduating, she moved to San Diego to be with her mother. She worked as a waitress, and when money got tight, she and her mom moved into their vans, often parking side-by-side at night. Jewel's unencumbered van existence allowed her to concentrate on what she really wanted in life, and she decided she would make two things: music and a difference in people'slives.

The music part was easy. She got a Thursday-night gig at San Diego's Innerchange coffeehouse, and by late 1993, she was playing her songs to packed houses and adoring fans. The record industry got wind of a fresh young talent in San Diego and made the trip to check her out. Atlantic Records signed her and she was on her way, with her mother, Nedra, by her side as her comanager and, since 1998, her sole manager.

The fulfill the second part of her dream, Jewel is giving 40 percent of her income to Higher Ground for Humanity, the nonprofit foundation she started one year ago with her mother, which focuses on education, alternative health and healing, and placing water filter systems in underdeveloped areas. If not for the foundation, Jewel says, "I think I would have quit [working] this year. I had too hard a time, I was too tired, and I find the constant beauty-queen-pageant, running-for-cheerleader-captain stuff about pop and rock exhausting. You're always competing to be The Girl. It's like dragging high school out for the rest of your life. God, it's absurd." But her obligations to HGH stopped her from quitting, she says. "My mom and I are partners--I have my job and she has her job. She's a brilliant businesswoman, she's amazing at setting up all that. And my job is to tour, gain capital, be creative and be happy."

These days, Jewel finds happiness at her eclectically styled home in San Diego, which she shares with Nedra. "I am literally home maybe two weeks a year," explains Jewel, who, following the film festival, flew to her home to do more work on her book. "So if you want to know where my favorite place to vacation is, it wouldn't be Tahiti or the Caribbean. It would be in my ownbed."