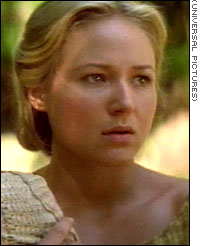 Making of "Devil" A Wild Ride for Cast and Crew
THELMA ADAMS




IT'S not real until a Missouri tick bites you.At least that was the level of authenticity director Ang Lee achieved while in the Show-Me state filming his Civil War epic "Ride With the Devil," which opens today.

"Ang called spring in Missouri the Mud Storm," said writer-producer James Schamus, referring to the two filmmakers' last collaboration, "The Ice Storm," which also starred Tobey Maguire.

"We were outside all the time. The actors were in period garb. The way to beat disease was to cover your body with wool in hundred-degree weather, picking ticks out of nether regions."

Set on the Kansas/Missouri border, the "Devil" shoot, a five-month trial in extreme weather, also got poor reviews from the cast, which includes Skeet Ulrich, Jeffrey Wright and the singer Jewel.

"It went from 14 below to 100 plus," griped Ulrich.

"It was brick cold," confirmed Wright.

In Schamus' adaptation of Daniel Woodrell's historical novel, Maguire, Ulrich and Wright play Missouri Bushwhackers, a band of Confederate rebels who use guerrilla tactics to battle Unionist fighters known as Jayhawkers.

Jewel makes her film debut as Sue Lee, the Confederate widow who cozies up to Jack (Ulrich) and Jake (Maguire).

If the weather was less than ideal, there was one entertaining distraction: the horses. There were lots of horse scenes, and the cast battled for bragging rights as to which of them was best in the saddle.

"I'd ridden a bit," said Wright with a straight face. "I grew up on a small ranch in southeast D.C."

But Wright, who won a Tony in 1994 for "Angels in America," watched the experts. "The wranglers have this kind of quiet ease about them, because that's the way you communicate with the horse," he says.

City-slicker Schamus admired the horsemanship of Ulrich, who lives on a Confederate-era farm in Virginia's Blue Ridge Mountains with actress-wife Georgina Cates. "All the horse stuff he did on the movie, that's him flying around."

But everyone agreed that Jewel was head and withers above the rest.

Said Schamus: "She was the best rider in the cast. It bummed her out when Ang kept putting her on mules."

Ulrich, who woos Jewel onscreen, munched on onions before his love scenes with her. "You gotta break in the new girl, just like horses," he says.

But the practical joker saved his biggest prank for Lee on April Fool's Day: "I had the makeup guys make up a cast like I broke my arm the night before," he recalls. "That pretty much gave Lee a heart attack. He still has the cast in his office."

And everyone had nice things to say about Maguire. Schamus says he wrote the part with the clean-shaven 24-year-old in mind.

"We needed a guy we could cast as the star, but also somebody believable as a virgin," he says. "Brad Pitt just doesn't happen. In 'Ice Storm,' Tobey tried to lose his virginity and failed. This time he succeeds."